Once upon a time there was a very intelligent boy called Lewis. Lewis had always wondered why there were always two politicians on TV arguing. So he asked his parents: "Mum, dad, why do those men go on TV and argue?"
To which his parents answered: "Lewis, they're politicians. Their job is to make the people of our country happier."
Lewis was not satisfied with this answer, and said: "But it doesn't make sense – how can they be working for us when you can see them arguing like that. That's not working for us at all!"
His parents replied: "At the end of the day, a person who is truly working for us will have a clean conscience… he'll be able to sleep at night. Go to sleep, Lewis, darling, and don't think about the politicians anymore. All you need to do is work hard at school and not worry about them."
THE END
Share this short story for kids with your friends on Facebook, Google +, or Twitter with buttons you'll find at the beginning or end of the story. Thank you!
Stories for kids written by: www.shortstories.net (a pseudonym).
There was once a little boy of 6 years old called Lewis. One day, as he was looking out of the car window on his way to school, he discovered that a large mass of grey smoke was forming just above his dad's car.
Somewhat alarmed, Lewis looked at the other cars on the road to find out if they too had a cloud of grey smoke chasing them. To Lewis' surprise, all the cars travelling on the motorway had the grey smoke hovering around them.
So Lewis asked his father: "Dad, what's that grey smoke above our cars?" Lewis' father was a little surprised by the question, but answered: "Well, Lewis, it's called pollution."
"Pollution? What's pollution?" asked Lewis, waiting intrigued for his father's answer.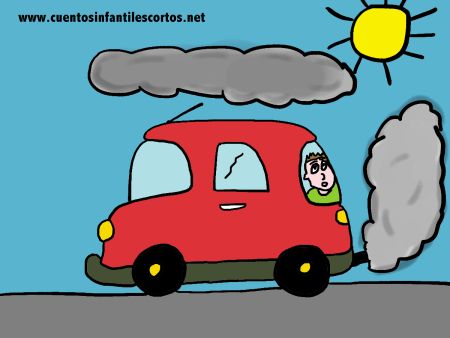 "Well, for example, it's that grey smoke you can see above our cars. Cars that run on petrol or diesel give off gasses into the atmosphere, which are very bad for all living beings and the planet too. Today you can see a lot of the grey smoke because it hasn't rained for a long time," answered his father.
Lewis spent a while pondering on this, and began to put two and two together. If the grey smoke was bad, and it was all because of cars, then why were there so many cars on the road?
"Dad," said Lewis slowly, "If the grey smoke is pollution and is bad for us, why are we going to school in a car?"
"So I can get to work on time, son. The bus or metro would make us late," answered his father. Read the rest of this short story »
Once upon a time, there was a thirteen-year-old boy who loved to eat hamburgers and chips in fast-food restaurants. Every week, Joe and his friend Daniel would meet up to go to the local McDonalds, and order a Big Mac with fries and a fizzy drink.
Joe liked hamburgers so much that during the week he couldn't stop thinking about the burger he would be eating the following weekend. One night, he even dreamed about a burger because he'd been thinking about it so much…
In Joe's dream there appeared a freshly made burger with grated cheese, which said to him: "Eat burgers, they're delicious!!" So Joe took the two enormous hamburgers that had appeared in his dream, and gobbled them down in one mouthful. But suddenly he began to feel sick, for he had eaten too much too quickly and his tummy was hurting. Just before waking up, Joe looked at himself in the mirror and saw that he had developed a belly as big as Santa Claus', so he shouted: "Noooooo!!"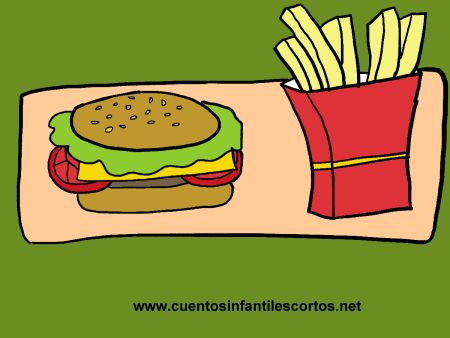 Well, this woke Joe up with a start and he ran to the bathroom mirror to check his tummy. Phew! It had all been a dream.
The next day, like every Sunday, Joe and Daniel met up by the park to go for a burger, but today something unexpected was about to happen. Read the rest of this short story »
There was once a hotel that was very popular with tourists, but it was no ordinary hotel; at least, that's what some of the previous guests said. Matthew had gone to spend a few days at the hotel with his parents, for they were going to visit the Ordesa National Park in southern Spain, for it was one of the prettiest parks in the whole wide world.
When Matthew's family arrived at the hotel, which had been an old stone monastery, they were very surprised and amazed at how big it was.
Matthew had a room to himself, which made him very happy, for he thought this meant he could sleep till late without anyone disturbing him. But that night as he was sleeping peacefully, a noise in the middle of the night woke him up. The young boy got such a fright that he couldn't help screaming.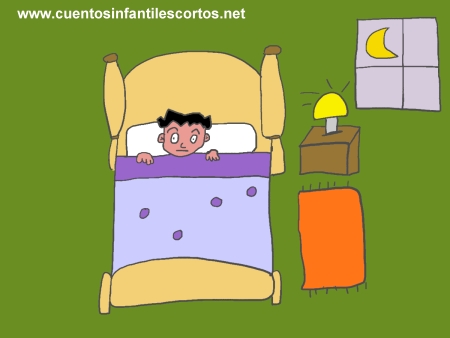 He jumped out of bed and switched on the light to see who had made the noise, but there was no one there. But just as Matthew was about to get back in bed, he found a piece of old cloth on the ground next to the chimney. He picked it up for a closer look and began looking around the room to see if he could find another clue.
After a while when he still hadn't found anything, Matthew went back to bed. For a few minutes, his eyes wouldn't close – he tried and tried to go to sleep, but couldn't. His eyes were big as saucers and he had pulled up the bed sheets right up to his head in fear, for there were creaks and groans coming from everywhere.
Finally, just as he was about to fall back asleep, he heard another noise – just like before. In a flash Matthew turned on the light to see where it came from. Then he caught sight of a figure in a nightdress made from the same cloth he had found a little while before. He dashed out of his hotel room and into his parents', and leapt into their bed.
"Mum, dad, there's someone in my room! She went up the chimney!" Matthew cried, trembling in fear. Read the rest of this short story »
There was once a twelve-year-old girl named Pippi, who really liked amusement parks even though she had never been to one.  Her parents had never let her go because they said they were very dangerous, but they would make an exception on her birthday and take her to the biggest amusement park of them all.
So on Pippi's birthday, her parents bought her an all-day ticket for the park. Pippi was very happy about that, as you can imagine.
When she got there, Pippi's jaw dropped in amazement at the amount of rides, and just how big the park actually was. Pippi and her sister ran to a new ride that had just been opened - the biggest rollercoaster in the world.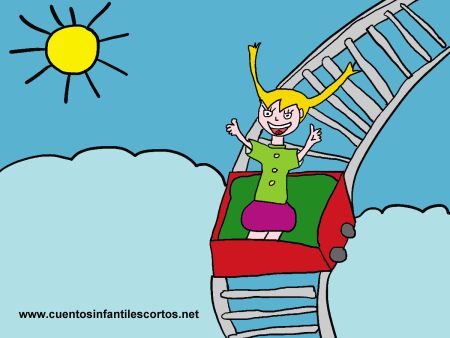 Just as they were about to get on, Pippi felt a fluttering in her tummy that made her stop in her tracks…
"Come on, Pippi! Get on, it's about to go!" cried her sister. Read the rest of this short story »
Once upon a time there was a summer camp that was very popular with children aged up to 10. The camp had a large swimming pool for the children to enjoy refreshing dips in the water, as it was very hot.
The children usually played and dived near the edge of the pool, which really annoyed the swimming pool.
One day, the swimming pool got tired of this and decided to frighten the children so that they wouldn't play and jump around near the edge.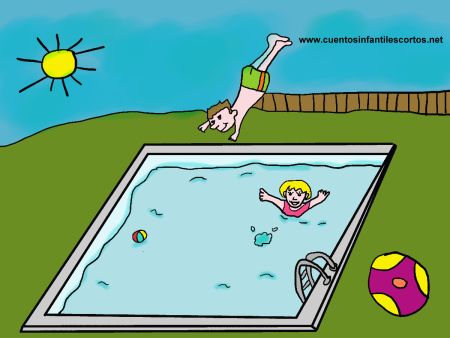 So without warning she started to talk in a very stern and serious voice: "Boys and girls at the summer camp!! If you don't stop jumping and playing near my edge, I will open my mouth and gobble you all up!!" Read the rest of this short story »
My name is George, and I'm going to tell you a story that happened last year just after my birthday. For a few months, I had noticed that mum and dad were acting differently towards me – they weren't paying me so much attention.
My parents were very happy; they laughed a lot, and even my father, who is quite serious, wouldn't stop cracking jokes to everyone. I just couldn't understand why they were behaving so differently. Maybe it had to do with my mum's growing tummy…
One day at breakfast, they said to me: "George, we've got some good news for you; you're going to have a little sister!"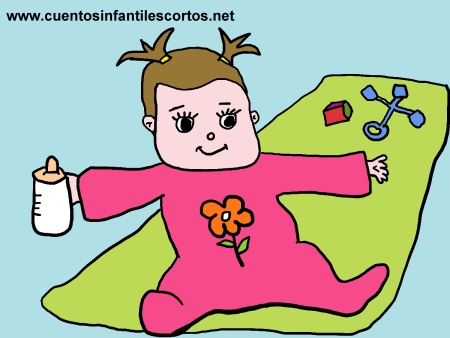 "A little sister? So… that's what's wrong with you!" I said.
"What do you mean?" Dad asked.
"Well, you've been ignoring me because you're going to have another baby!" I said. Read the rest of this short story »
Many years ago when I was a little girl, there were lots of shepherds with their flocks of sheep. It was very strange not to find one in each village, for being a shepherd was a very normal job in those times. These days, very few children have seen a flock of sheep, except in stories and photos.
The little sheep in my village lived in an enclosure where they had a basin of water on one side for when they were thirsty, and straw on the other side for when they were hungry. Inside the enclosure was a shed that the sheep used as a shelter on days when it was rainy and cold.
The shepherd looked after them very well. It was he who gave them the straw to eat and water to drink. He also milked them and went out into the fields with them all.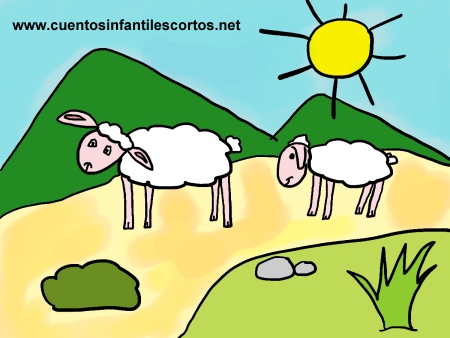 What I remember most about this time was the noise of the little sheep coming back from grazing in the fields, for Nino the shepherd would put a bell on them and you would hear a tinkling "ding ding ding" sound as they trotted by, and all the children would run behind them laughing and jumping around.
The flock of sheep always passed in front of my house, and I have to admit that I was a little scared when I saw the shepherd go with them, for Nino also had a couple of goats and they frightened me a great deal – for these goats had horns. Read the rest of this short story »
Lawrence was a little boy of 8 years old who loved playing with his toys. On the whole he was a good boy and always got very good marks at school. That's why one Christmas Santa Claus had arrived loaded with toys for Lawrence, for Lawrence had written to tell Santa that his school results were better than last year's and that was why he wanted more toys.
Among the presents Santa gave Lawrence was a magic blackboard where you could write or draw anything you liked, but which erased everything when you shook it. Without a doubt, it was the Christmas present he liked most of all, for he spent hours and hours playing with it.
After the holiday was over, Lawrence decided to take the magic blackboard to school to show his classmates. But Liam, the naughtiest boy in the class, ran off with Lawrence's board and teased him all through break.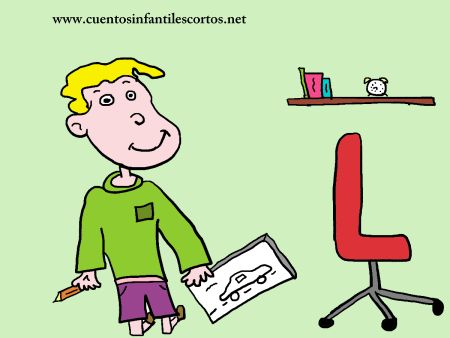 "Liam, give me my board back!" shouted Lawrence. But Liam was taller than Lawrence and held it above his head so that Lawrence couldn't reach it.
"Go on Lawrence, jump!" teased Liam. Read the rest of this short story »
Once upon a time there was a village called Benidorm in Spain, which had a very big beach that got very busy every summer. It was also the home of Julian and Florrie, who originally came from the Spanish capital city of Madrid. They loved the beach, and they knew they would never leave Benidorm.
One day, they decided that when they grew old and could no longer travel, they would like their future grandchildren to come and spend time with them. And as they believed in magic, they thought up a plan to make their dream come true.
Julian was a good artist so he painted a picture of Benidorm beach. On the back, Julian and Florrie left a message for their future grandchildren, which was: "Think of your grandparents and you will appear on Benidorm beach with us."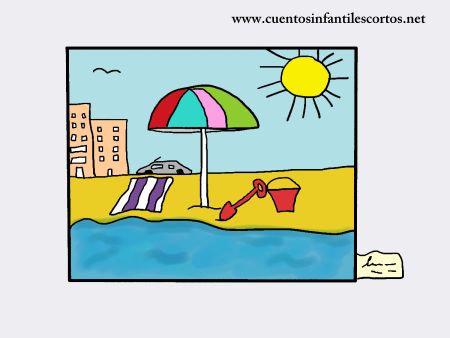 Julian and Florrie gave the picture to their children to pass down the generations, and told them to show it to future grandchildren and hang it in their room.
And years later, Read the rest of this short story »