CLAIRE, THE UGLY FAIRY
In the fairy kingdom lived a young girl called Claire who was known as the ugly fairy. She was 17 years old and had been hiding at home all her life because she was ashamed of how she looked.
The ugly fairy only left her house once a month to go to the fairy ceremony, where old fairies shared their knowledge and experience with the rest of the fairies.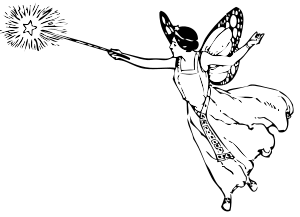 Claire always wore a mask, when she went out to rescue a child on a mission otherwise the child would always ended up saying: "Go away, you ugly fairy!", and the poor fairy always felt very sad when this happened.