THE ADVENTURES OF THE DOG, THE BADGER AND THE CAT (FIRST PART)
Short Story for Kids written by: Mariache (Nicaragua)
Our three friends lived in the jungle. They used to spend all day exploring the forest and then sleep huddled up against each other at night.
Napoleon, the dog, used to spend the day trying to catch lizards; Boy-boy, the cat, ran behind colorful butterflies, and Bubu, the badger, looked for honeycombs inside the trees and for insects on the jungle floor that he really liked to eat.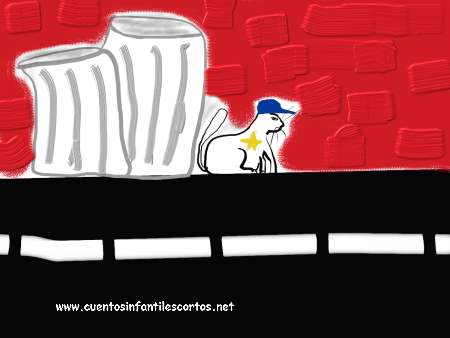 One day, they heard a strange noise. It sounded like an engine, and they also heard voices. But, who could it be? Nobody could reach that part of the jungle.
Those noises intrigued them, so they moved closer to the place where the voices were coming from and listened…
"We will be fine here! – a voice said – "It´s a good place to wait for the animals, I can see many tracks and footprints".
Napoleon, Bubu and Boy-Boy left the place stealthily as they were afraid of being discovered. They were horrified by what they had just heard and discovered.
After recovering from their shock, Napoleon said: "How horrible! Those are illegal hunters!! I heard that they take wild cats, monkeys, parrots, toucans and other animals from the jungle, to sell them later at the edge of the road!".
"Oops!! Thanks goodness I´m almost a pet cat and you are not in danger, Napoleon, as you are a normal dog, but Bubu is a badger, and they might want to capture him". Then, looking at Bubu, Boy-Boy said:
"Well Bubu, we have to hide you, but not too far from us!!"
"Do not go looking for honecombs far from here! We have to stay together, this way Boy-boy and I will be able to protect you" – Napoleon said.
Then they were more relaxed and slept all together.
When daylight came, Bubu could not resist the temptation of going to look for some honey. So he went to the tree but suddenly…BAAAANG!, Bubu felt a rope around his neck and heard a terrifying voice say: "Look what I have caught! It's a badger!"
"That is worth a lot of money, I know someone who will pay a good price for this animal"
Another voice said: "Let´s go, so we can be on the road selling our parrots, toucans, a baby leopard and this badger before midday".
Napoleon and Boy-Boy were afraid when they noticed that Bubu had disappeared. They decided to look for him.
Napoleon smelled everything around searching for a track, while Boy-boy followed him. The track took them to the ilegal hunters campsite.
When they arrived, they heard a baby leopard crying, parrots screaming, toucans shouting and could hear the hunters putting Bubu, with his legs tied, inside the back of a car.
Without thinking about it, Boy-boy jumped into the car and Napoleon ran after him, because his friends were inside.
TO BE CONTINUED…
Click to read: THE ADVENTURES OF THE DOG, THE BADGER AND THE CAT (SECOND PART)
Share this short story for kids with your friends on Facebook, Google +, or Twitter with the buttons you'll find at the end of the story. Thank you!