RUDOLF, THE BAD MOUSE
Short Story for girls and boys written by: Graccgi.
Once upon a time…
…there was a mouse called Rudolf who was a very bad mouse.
One day, Lucy, Rudolf´s neighbour came back from shopping and needed help carrying her bags full of food, so she asked him: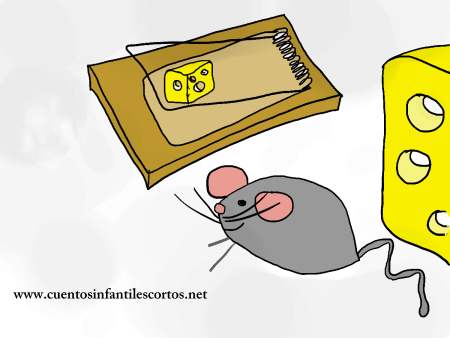 – "Hi Rudolf, Can you help me to carry these bags, please?".
– "No!" – Rudolf replied.
The little mouse girl started crying. Just at that moment, a handsome young mouse, called Richard, was walking along the street. He saw the little mouse girl crying and felt sorry for her.
– "Let me help you" – he said.
– "Thank you so much! – Lucy said.
Rudolf was jealous, even though he didn´t want to help her in that moment.
– "That mouse shouldn´t be near Lucy, she only asks me for help", he said.
Jealousy made Rudolf behave differently.
– "Richard, don't, I will help her" – Rudolf said.
Richard exclaimed surprised – "As you prefer!"
And from then on Rudolf helped Lucy any time she needed it. Lucy talked to him, and advised him not to be so mean, because he had to learn to behave correctly, especially when somebody offered help.
She also told him that jealousy was bad and could give rise to many problems. Rudolf realized that his attitude was not good at all, and started to change.
Years passed and Lucy and Rudolf fell in love, got married and lived happily ever after.
In addition, they became very good friends to Richard, who was a very kind mouse.
And that is the end of the story…
Moral of the Short Story for Kids: Don't be rude to the others, be kind and help who ever needs it, this way you will be happier.
Share this short story for kids with your friends on Facebook, Google +, or Twitter with the buttons you'll find at the end of the story. Thank you!