There was once an invisible ship aboard which some wicked pirates lived. These pirates spent their days sailing the seas and oceans hunting for very valuable treasure – some hidden treasure that no one had ever been able to find.
The pirates and their ship were invisible, and you could only see it if you were a pirate too. It also meant that the pirates could get to all the hidden treasure before anyone else, for they wouldn't leave a trace.
-
Watch this children's story and

connect English subtitles

:
As usual, the pirates set sail for some hidden treasure that no one had ever heard of, but even so this treasure was very special for it guarded a big secret…
Following the course of the treasure map, the pirates were impatient to get there as soon as possible, for they believed it would be the best treasure they had ever seen. In no time at all, the pirates' invisible ship had reached the treasure island and as they were the first to get there they were very happy.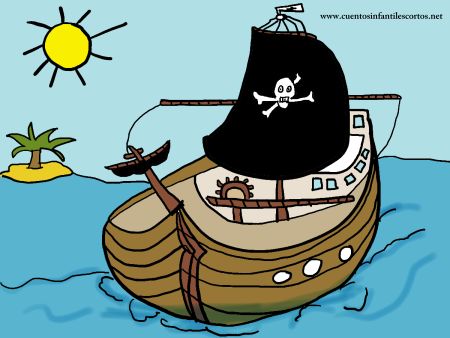 Just as the treasure map indicated, they had to head inland from the beach by taking one hundred paces in a straight line, turning right and taking eight more paces – and there, buried in the sand, was the hidden treasure.
The pirates grabbed their picks and spades and starting digging as fast as they could, taking it in turns when one got tired. But after they had been digging for quite a while, they hit something metal… Continue reading…