FLORA, THE LEAPING FROG
Once upon a time, there was a frog called Flora, who was very young and spent all day long leaping about…
Perhaps you're thinking, 'Yes, but that's what all frogs do!' Which is true – all frogs leap to get from one place to another, but our friend Flora was nicknamed 'leap frog' by the other frogs, so you can imagine that she certainly didn't lack any energy.
-
Watch this children's story and

connect English subtitles

:
From the moment she awoke to the time she went to sleep, she would jump about from one spot to another. She couldn't sit quietly even for a little while, and her parents were constantly telling her: "Flora, don't leap so much! One day you're going to hit something by accident and hurt yourself."
One day when she was in the pond, leaping from one stone to the next, a very calm toad ambled up to her and said: "Hello Flora, how is it you have so much energy to leap around like that?" For a moment, Flora the frog stopped still to stare at the toad that was transmitting so much peace, then shrugged and kept on leaping.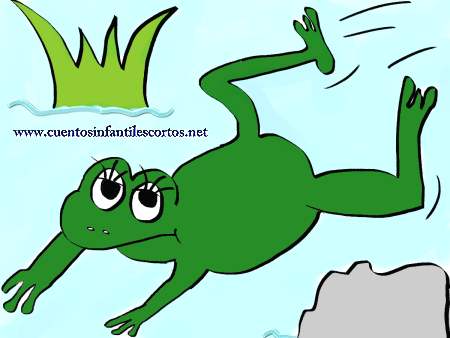 The next day at school she had a gymnastics exam, which consisted of leaping over the vaulting horse and … I wonder if you can guess who leapt higher than anyone else? That's right, Flora the frog. At that moment a classmate came up to her and asked: 'How do you do it, Flora? I'm a frog too, but I can't leap around all day long"… And Flora answered: "I don't know…"