ALBERT AND THE TIME MACHINE
Legend has it that there was once a time machine that belonged to an old scientist named Albert. This machine had never been tested, but Albert knew that his dream of travelling to the future would one day come true.
No one had any idea about what experiments old Albert had performed with the machine, but he declared that he was able to travel to the past and future just by sitting in the cabin and typing in the year to which he wanted to go.
The villagers thought that the old scientist had gone mad and that he was losing his mind. In fact, some would say: "Travelling to the future, humph! He doesn't know what he's talking about."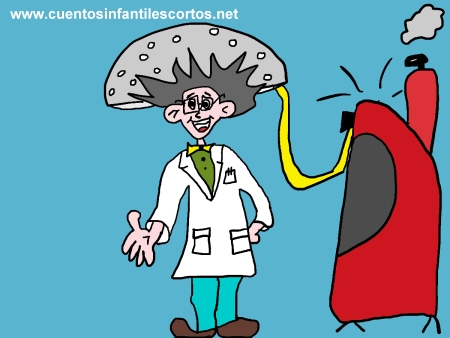 Albert ignored these comments and while they were all wondering if he really had gone mad, he kept working on the final details of his time machine. For more than five years, the old scientist had devoted all his time to designing and experimenting with equipment that could make his dream to travel back in time a reality, for he wanted to return to a very special moment in his life, the day his father had let him come into his laboratory to do an experiment together. That day was very special for Albert, for it was at that moment that he knew he wanted to be a great scientist when he grew up. Unfortunately, he still hadn't achieved it.