THE LOCH NESS MONSTER
A long, long time ago there was a legend about a monster that lived in a lake called Ness, by the side of a little village in Scotland. No one had ever seen the Loch Ness Monster, but the whole world talked about her. People said that the monster in the lake was as big as a football pitch, that she had four eyes and ate all the little children who went near the lake.
Jake, for that was the name of an adventurous little boy from the area, decided to investigate and set off to explore the area around Loch Ness. Jake knew that if the rumours of the monster were true, he wouldn't come out of his adventure alive. But there was something inside him that made him think that what people said was false.
Jake believed that if there really was a monster in Loch Ness, she couldn't be as bad as the villagers said, for he believed that all living beings had their good and bad points, and that we should try to get the best out of each other.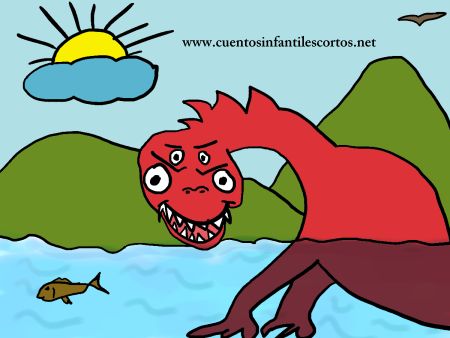 So Jake went off with his backpack full of food. When he reached the banks of the lake, he began throwing the food to attract the Loch Ness Monster.