THE CAT AND THE MOUSE
Short Story for Kids written by: Brisa Melendez Castillo
Once upon a time there was a mouse living alone in the woods. One day he was walking around when he met a cat who asked him.
-"What are you doing, mouse?"
-"Well, I´m searching for some cheese" – replied the mouse.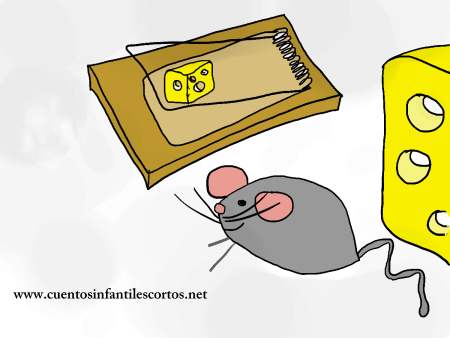 And the cat said: "I can take you to a place full of cheese".
When the mouse heard that he was very happy, and they both set off for the place full of cheese. When they arrived the mouse asked the cat for the cheese.
But the cat was so smart that everything had been a trap so the mouse would go with him.
-"Ha, ha, ha!" – I have tricked you! There´s no cheese, I am going to eat you!". – shouted the cat.
The mouse ran away very scared but the cat shouted:
– "You cannot escape. There is no escape!".
The cat captured him and the scared little mouse screamed for help. But the cat said that nobody would hear his shouts.
Suddenly lots of cats appeared to help the mouse, because he was a good mouse and did not deserve to be eaten.
The mouse was very thankful to the cats and they all became very good friends.
THE END
Moral of the story: Never lie, don´t be bad.
Share this short story for kids with your friends on Facebook, Google +, or Twitter with the buttons you'll find at the end of the story. Thank you!