MAGIC SOCKS
Short Story written by: Carmen Ferre
There was a little girl called Amelie who liked puppets, chocolate and dogs.
She was a happy and a playful girl who loved her family and was very close to her granny Mary.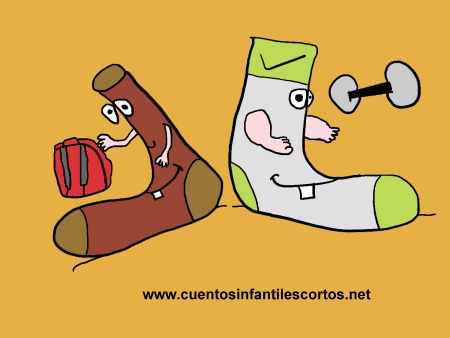 But there was something that really annoyed her, her feet were always cold. She was never confortable enough, even when wearing three pair of socks she wasn´t warm enough.
Winter was the worst season for Amelie, sitting in front of the chimney was the only way she could warm up her feet.
Her granny Mary visited her one day and she had an important surprise for Amelie.
Amelie was playing with her dolls when saw her grandmother appear in her room-. She hugged her very excited, and then Mary gave her a present.
She had madeher a pair of red socks from a very special wool. Amelie jumped with joy when she tried them on and felt her feet so warm.
Amelie was then very happy and her feet were never cold again.
THE END
Share this short story for kids with your friends on Facebook, Google +, or Twitter with the buttons you'll find at the end of the story. Thank you!