THE TRAVELLER SQUIRREL
Short Story written by: Ana BarchukdeRodriguez 
Once upon a time, there was a squirrel who wanted to visit her family who lived in a town a bit far away from her town.
She didn´t know how to get there but found out that a train went directly to her family´s village.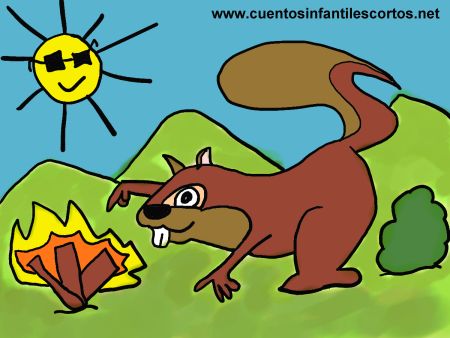 So, she went to the train station and hid behind a bench waiting for someone with lots of baggage. She suddenly saw a woman carrying a very big bag, approached her carefully and jumped into the bag.
Once on the train she waited for it to leave and then got out of the bag. She was looking forward to arriving and so stayed quiet and hidden during the journey.
The train finally arrived, and the traveller squirrel began her way directly to the house.
When she arrived and saw her family she couldn´t believe how happy she was, and she had something important to say.
She was going to get married in a couple of weeks and wanted to celebrate it with her family.
Everybody was excited by her news, and when the day arrived, the squirrel got married at her parent's house.
It was such a beautiful day and at the end of the party she told everybody that her husband and she were going to move to the house next to her parents, and everybody started to cry with joy.
THE END
Share this short story for kids with your friends on Facebook, Google +, or Twitter with the buttons you'll find at the end of the story. Thank you!