THE SINGING FROG (PART 1)
Short Story written by: Mapy.
In a faraway bog lived three little frogs that were siblings, two girls and a boy called Croky and they all loved singing. The two girls had a very nice voice but Croky did not have the same talent as his sisters and didn´t sing very well.
Croky had a shrill voice. He felt very sad every time his sisters sang and could not understand why he wasn´t like them. He would hide somewhere in the forest to practice, but his voice was always the same.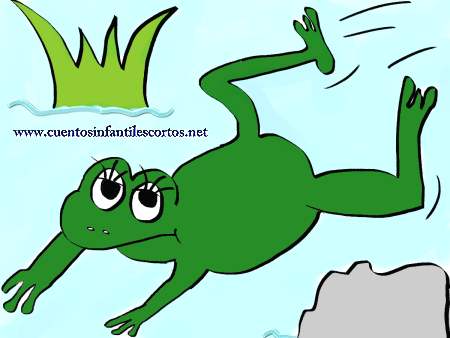 He was making a big effort to reach his dream, but it wasn't working. One day when he thought he was alone he started crying. Suddenly, he heard a noise behind and stopped automatically.
He looked up and saw an old turtle coming towards him:
-"What´s wrong?" – asked the turtle
-"Well, nothing…" – Croky said – "Actually, I´m sad because I love singing but I´m not able to sing like my sisters who have great voices".
– "Ok, so you think you can´t sing like your sisters," – said the turtle with thoughtful look – "ok, let´s try something…"
The old turtle stood up and began to walk, Croky followed her until they came to a big cave: "I´m going inside the cave, you have to sing as loud as you can to make sure I can hear you from the cave. Try to enunciate clearly, meanwhile I will approach you little by little" – said the old turtle – "is that clear?"
– "It´s clear, but I´m not sure I'll be able to." – replied the little frog.
– "Let´s find out!, I trust in you!" – said the wise turtle trying to encourage him.
TO BE CONTINUED….  Click here to read The singer frog (part 2)
Share this short story for kids with your friends on Facebook, Google +, or Twitter with the buttons you'll find at the end of the story. Thank you!