THREE FRIENDS AND A DOG
Short Story written by: Luis Muñoz
Lena, Margaret and Josh were three, 6 year old kids. They were very good, but a bit naughty. They were also very good friends at school and in life, and always played together.
One day, when there was no school (because it was Saturday), they played with Lena´s dog, who was always with them and was called Lily. Margaret said to her friends: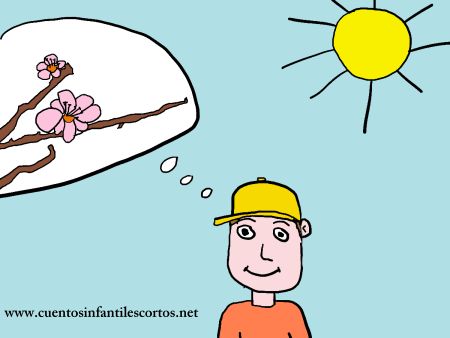 – "Do you know what? Tomorrow is Sunday and it is Mother´s Day. What are you giving to your mother?"
Lena and Josh said that they did not have any money to buy anything, and Margaret replied:
– "I don´t have any money either, but I thought that maybe, we could go to the field and collect some flowers to make a bouquet of wild flowers."
Her friends agreed with this beautiful idea, so, the three friends and Lily, the little dog, went that afternoon to the field after lunch. They were so excited that they didn't realise that they had gone far from the town. So they decided to go back home as soon as they had the big and beautiful bouquet of flowers.
On the way back home, they got lost. The three of them were very nervous and afraid. Margaret and Lena were crying, but Josh went up a hill to take a look at the horizon and check where they were. But he could just see fields. Suddenly he saw lots of trees and a river. Josh remembered that a river flowed through the town and that maybe this was the same river.
The kids followed the course of the river a bit scared, but their dog guided them to prevent them from any danger.
They walked for about an hour and then they saw the first houses of the village!
The sun was low and it was getting dark. Finally, they arrived home safely, still scared of what had happened.
They could barely sleep that night remembering their adventure in the field.
The day after was Mother´s day. Margaret, Lena and Josh gave the beautiful bouquet to their mothers. The three mums were very happy with their presents and the kids were very happy, but still could not forget the problems they had gotten into the day before.
This story teaches every child that they must never go anywhere alone especially far from town. They must always go with an adult and their parents, and be wary of strange people, and don´t accept anything from a stranger.
THE END
Share this short story for kids with your friends on Facebook, Google +, or Twitter with the buttons you'll find at the end of the story. Thank you!