THE TRAVELLING GRAIN OF SAND
Short Story written by: Ruderico Diaz , (Venezuela)
Once upon a time there was a grain of sand travelling through the seas in search of a new home.
After some weeks he found a place where he felt relaxed and happy, with calm and clear water so he decided to stay there for a while.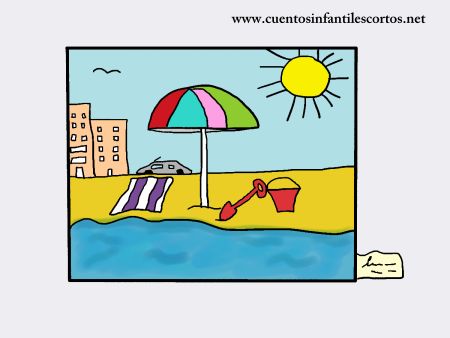 Days passed and the little grain of sand was very happy and enjoyed that beautiful place, playing with the waves, sunbathing and not thinking about anything else.
But soon it was time to go back home. The little grain got ready to begin his trip, but the tide had changed and it was very difficult to find his way back home.
He was very sad as it was time to finish his trip and he didn´t know how. After thinking about how to solve his problem he decided to wait until the tide turned.
After a few hours, the little grain of sand could finally begin his journey back home, he just needed a bit of patience and confidence in himself.
THE END
Share this short story for kids with your friends on Facebook, Google +, or Twitter with the buttons you'll find at the end of the story. Thank you!