THE CHICKPEA BOY AND THE LENTIL GIRL
Short Story writen by: Laura, 11 years old.
Once upon a time there was a boy named "Chickpea", well, actually that was what his family called him, but his real name was Charlie.
Ever since he was very small, his family had called him chickpea as a term of endearment because he had a cute rounded head.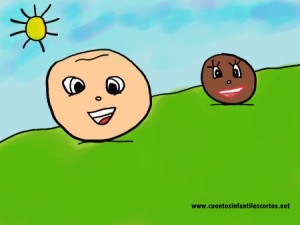 Joan, his little sister also had a nickname, "Lentil", because of a mole she had on her back. Charlie always teased his sister by calling her Lentil. So their parents had to punishing them both, because they were always teasing each other. But one day this changed…
When Joan and Charlie became adults they realised that it was not worth the trouble of being annoyed, so they changed their attitude and began to get along with each other and make the most of the moments when they were together.
So that is how they learnt that it is really important that children are together, and they transmitted this message to their own kids.
THE END
Share this short story for kids with your friends on Facebook, Google +, or Twitter with the buttons you'll find at the beginning or end of the story. Thank you!