THE CRICKET AND THE TOAD
Short Story written by: Estefany Munera Gómez
Once upon a time there was a cricket playing hide and seek in the forest with his friends.
The cricket hid behind a tree where a toad lived. The toad had no friends because he was ugly and fat.
The toad was crying when the cricket arrived, "Why are you crying?" – it asked him.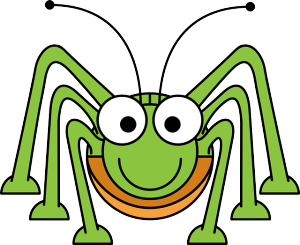 "I have no friends" – said the poor toad – "Do you want to be my friend?" – said the cricket.
"But don´t you see that I am ugly and disgusting?"
"No, I think you are a nice, humble toad" – said the cricket.
"Why do you think that?, all my friends think I am ugly and disgusting." – said the toad.
And the cricket answered, "Come on, I will introduce you to my friends and they will be your friends too".
And that is how the toad and the crickets became very good friends forever.
THE END
Share this short story for kids with your friends on Facebook, Google +, or Twitter with the buttons you'll find at the end of the story. Thank you!