THE DOLL WITH A COLD
Once upon a time there was a doll sitting on a shelf in a girl´s room. The girl was called Sophie and the doll was Poppy and she was Sophie´s favourite doll.
Poppy loved to sit on the shelf and look out over the room full of things and at her friend Sophie who Poppy really loved.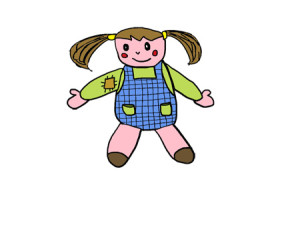 One day Sophie forgot to close the window before going to class, and Poppy caught a cold.
When Sophie arrived home and saw Poppy, she asked her, "What happened to you?".
And the little doll with a red nose said: "You forgot to close the window before going to school!" and then started to cry.
Sophie said worriedly: "Don´t cry, I am going to take care of you and you will get better, I am really sorry!".
But Poppy saId: "No, I am crying because all the heat in the house has gone and we have to use more electricity and that contaminates the planet."
Sophie understood what Poppy told her, and never forgot to close the window again for both reasons, So as Poppy would not catch another cold and so as not to contaminate the planet.
THE END
Share this short story for kids with your friends on Facebook, Google +, or Twitter with the buttons you'll find at the end of the story. Thank you! Stories for kids written by: www.shortstories.net (a pseudonym).