FRIENDSHIP
Short Story written by: Romina Rios
Once upon a time there were three best friends. Their names were Camille, Diana and Romina. They were really close and always played together.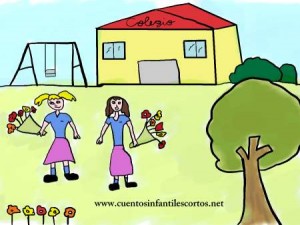 One day, Diana was playing with Camille ignoring Romina. She was very sad, and Camille went to talk to her. Romina was not on the mood to talk with anyone, but Camille insisted.
"What is wrong? Why are you upset?"- asked Camille. "Diana ignores me and that makes me feel really sad. She should be playing with both of us not just with you."- said Romina, "So let´s go and ask her what´s going on."- continued Camille.
They went to see Diana and find out what was happening, "I am really sorry Romina, I don´t want you to be sad, I won´t do it again, I promise. I love you and you are an incredible friend."- said Diana.
From that day on, all three of them were always together and they lived happily ever after.
THE END
Share this short story for kids with your friends on Facebook, Google +, or Twitter with buttons you'll find at the beginning or end of the story. Thank you!