BANANAS MONKEY AND HIS TUTU
Short Story written by: Cecijorgeesofi.
Bananas Monkey was brown, and he really liked put on costumes, but what he most liked was to visit her friend Sophie to her house, without telling her. Bananas monkey lived beside the lake in where the banana tree was, in addition to a high palm tree to climb.
One day, Sophie was taking a bath, and didn´t hear Bananas monkey getting into her room. When the naughty monkey saw a tutu skirt on the bed, took it and put it on.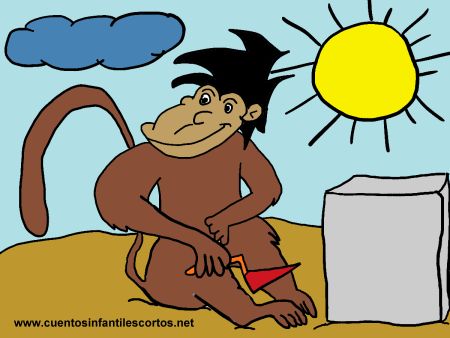 When Sophie went out with the housecoat she had received on her birthday, saw that her pink tutu which she was going to wear was not there. Asked her mom, but she did not know. So she went back to her room, got dressed with other clothes and went for a walk.
She saw something pink up on the palm tree so called her mom to tell her. None of them could believe what they were seeing, it was Bananas monkey climbing the palm tree wearing the pink tutu.
Sophie and Alice laughed so much and decided to give the tutu to Bananas, so everytime he wanted to dress up, would have the pink tutu.
THE END
Share this short story for kids with your friends on Facebook, Google +, or Twitter with the buttons you'll find at the end of the story. Thank you!