MEMORIES OF GERMANY – The race against a cow
Short Story written by: Dora Singh
When I was little I lived in the countryside with my brothers and sisters. We had many animals; dogs, horses, hens and cows.
Before nightfall, I used to pick the cows up from their grazing and bring them back to the corral. One of the dogs was always helping me.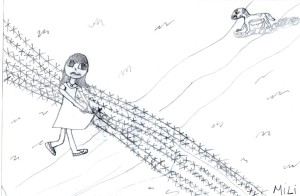 One day, as always, I went to look for our cows. One of them was beside her calf and thought that I was going to take him from her. So she tried to defend her calf. Even if I was not going to do anything, the cow started to chase me and I ran to our neighbours field.