THE GIRL AND HER SHORT STORIES
Short Story written by: Camila
Once upon a time there was a little girl with lots of imagination. Her voice and smile were so sweet and she lived with her grandparents helping them with everything they needed, and always took care of them.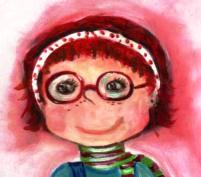 She would tell them short stories and sometimes they fell into a relaxing asleep during the storytelling.
The grandmother said to the girl:
-"My beautiful girl, you are very telented. You are going to be a very successful girl"
Time passed and the girl kept on telling short stories until she grew to be an adult.
People loved the way she would tell her stories and that is why she became the best storyteller in the world, and lived happily forever.
THE END
Share this short story for kids with your friends on Facebook, Google +, or Twitter with the buttons you'll find at the end of the story. Thank you!