VERY GOOD FRIENDS
Short Story writen by: Alba
Once upon a time there was a girl called Karla, she was very shy. One day her father King Marcus ordered her to clean and prepare the guest bedrooms for visitors that were coming from the city.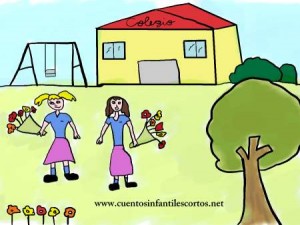 Karla´s mother was a strict and always ordered Karla to do lots of things such as washing the dishes, tidying up the room and taking out the trash.
Karla had four sisters, Jenny (9 years old), Nicole (10 years old); Helen (4 years old) and Anna,the youngest one, who was only one year old.
One day a new girl called Claudia arrived at school. She was very pretty and friendly. Karla didn´t like her much in the beginning, because she captured everybody's attention, and Karla was jealous even though she didn´t like to feel that way.
But one day, the teacher sat them together in class, and they started talking. From that day on they became best friends, and even their families met each other.
Karla had learnt her lesson and that was, not to judge anyone before getting to know them.
THE END
Share this short story for kids with your friends on Facebook, Google +, or Twitter with the buttons you'll find at the end of the story. Thank you!