THE HORSE AND THE MUSHROOMS
Once upon a time there was a horse called Mushry. His parents named him Mushry when they found out that his body was full of mushrooms.
He didn´t worry about the mushrooms when he was small, it was normal for him. But when he grew and started school, other horses made fun of him and Mushry felt really alone.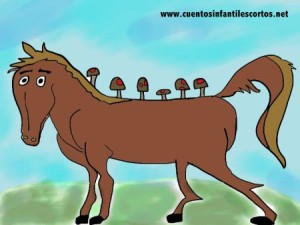 One day, a horse called Tommy approached Mushry and said: "Hi Mushry, do you want to be my friend?" – "Of course!"- said Mushry, and they started to talk together. Tommy asked him about the mushrooms on his body and Mushry told him his story.
"I love mushrooms, can I have one?" – said Tommy – "Sure, they'll continue growing anyway".
When Tommy heard that, he became very happy – "That´s great! I can always eat mushrooms, and besides they are delicious mushrooms!"
Mushry started to feel very optimistic. He'd never thought about his mushrooms like that, so he tasted them too and discovered how delicious they were.
From that moment on, Mushry started to think positively and felt happy at being the only horse with mushrooms on his body.
Years passed, and Mushry made lots of friends. His relationships have changed since he began to think positively.
Mushry and Tommy founded a successful mushroom company and lived happily forever.
THE END
Share this short story for kids with your friends on Facebook, Google +, or Twitter with the buttons you'll find at the end of the story. Thank you! Stories for kids written by: www.shortstories.net (a pseudonym).