JOHN THE GREEN GOBLIN
Short Story written by: Maria Sol Centurión
Once upon a time there was a boy called John. One day his mother asked him to go and buy some food for dinner.
On his way to the supermarket a fairy called Lily appeared and asked him: "Hi John, I am a magic fairy, would you like to be a goblin?"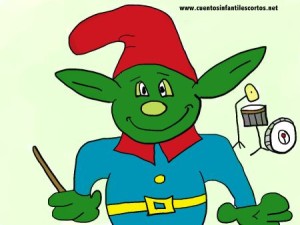 "Yes" – said the child.
So the fairy gave him a green costume, a green hat and a pair of big green shoes. Then he went back home and his mother asked him: "What happened to you?"
And John answered – "Now I am a Goblin, Do you like it? I am a lucky goblin and I can fulfill your wishes".
THE END
Share this short story for kids with your friends on Facebook, Google +, or Twitter with the buttons you'll find at the end of the story. Thank you!