JOHN THE PSYCHOLOGIST
Short Story written by: Roo.
John was a psychologist for disabled children. One day a boy called Marc visited him.
Marc told John that his father didn't know how to take care of him. The psychologist listened carefully and then told him not to worry because he was going to help him.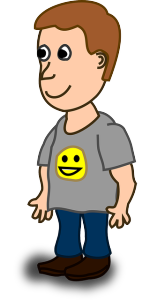 The following week Marc came with his father. John talked to him about his son´s situation, but Marc´s father was not in the mood to listen, he was tired of the psychologist because had no work and couldn't pay him.

When John knew that the poor man had no job and no money to take care of Marc, he offered him a job at his cousin's company: "I have a cousin who needs a man in his factory", he said.
From that day on, Marc and his father lived happily forever and visited John every week.
THE END
Share this short story for kids with your friends on Facebook, Google +, or Twitter with the buttons you'll find at the end of the story. Thank you!