THE KIDS AND THE MAGIC TV
There was a very special TV that could make things that children had never seen before.
It looked like any other TV, with the same buttons and with a remote control. But there was something that made that TV special.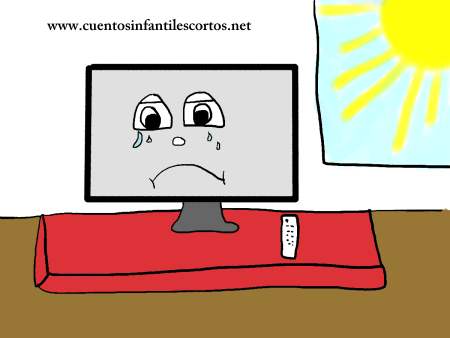 It was in the Cooper's family house. The parents had never noticed anything, but when their children were alone watching tv, something strange always used to happen. They would hear somebody crying when they were watching gossip shows on TV.
Their parents had told them not to watch those kinds of programme, but they sometimes did when they were alone.
The sobbing they always heard was the magic TV itself. It used to cry when the kids were watching trash TV.
One day it broke down and the parents had to call a repairman. He discovered that the TV was special because it had a brain inside.
The children then understood that it wasn´t good for them to watch trash TV.
THE END
Share this short story for kids with your friends on Facebook, Google +, or Twitter with the buttons you'll find at the end of the story. Thank you! Stories for kids written by: www.shortstories.net (a pseudonym).