LEMON AND ORANGE
Children's story written by Carmen Gloria Silva, 26 years old.
Lemon and Orange were two very special kids who had extraordinary parents.  Mama grapefruit was a housewife, that is, she was a mum and worked in the house.  And Daddy lime… well, what can we say about him? He was a very patient man, with great number of skills. Amongst other things, he was a great cook.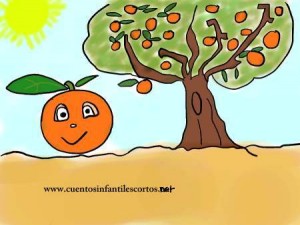 Mama grapefruit had some important errands to run so she would be out of the house until late afternoon.  While she was away, she gave all the family members a very important job to do. They had to help each other with all the house chores like sweeping, washing, ironing, cooking, and so many other things that mama grapefruit usually did every day.
So Daddy lime said to his two little citrus kids: "let's make a cake for mama!".  Lemon and orange laughed, they couldn't believe their father was capable of making a cake.  After a few minutes, the kids were impressed as they had actually managed to bake an amazing and delicious cake, and they had done it by working together.
At the very moment when they were setting the table to surprise mama, she arrived.  She started crying, and they were all very worried as they thought something might have happened to her. After all, she had left the house early, and had been out all day. But then they realised that hers were tears of joy.  She thanked all of them and said: "My family is so great. I wouldn't change them for the richest treasure in the world."
When night came, Mama grapefruit, asked Daddy lime how he had managed to get everyone to work together, he smiled and said "Daddy´s magic."
THE END
Share this short story for kids with your friends on Facebook, Google +, or Twitter with the buttons you'll find at the end of the story. Thank you!