THE PLAYFUL ANGEL
Short Story written by: Maribel
All kids have a guardian Angel, or at least that´s what John´s mum used to say.
Every night before going to bed John and his mother would have this conversation:
"Sweet dreams tonight, with little angels."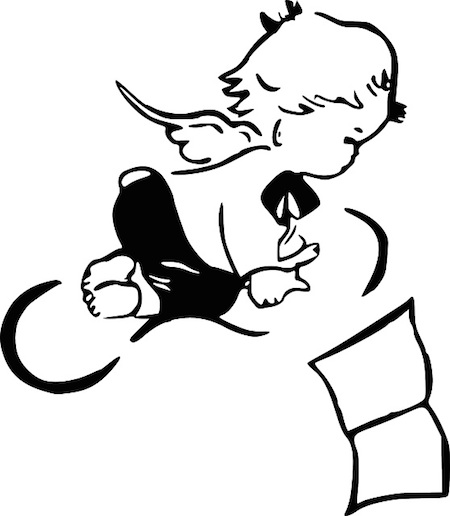 "Who are angels, mom?"
"God sends them to take care and protect every child in the world."
"So, I have a guardian angel like the rest of the kids?"
"Sure!"
"Great! I want to dream of him and talk to him. Good night, Mummy."
"Good night, son."
It was the same conversation every night. John needed to hear his mum's words to feel his guardian angel nearer. He was anxious to see him, but it had never happened.
One day he woke up feeling poorly. John felt ill, and so he went back to bed and fell asleep.
Suddenly he began to dream of happy things; clowns, circuses, dances and in his heart of hearts he heard a voice saying:
"When you are happy I´m here, and when you are sad, I´m with you too, giving you support and trying to make you happy again. So, don´t forget I´m always with you, protecting you even if you can´t see me."
When John woke up he was happier than ever. Now he was convinced about the existence of guardian angels, and of course, happy of having talked to his.
From that day on he felt good and safe knowing his angel was always with him.
THE END
Share this short story for kids with your friends on Facebook, Google +, or Twitter with the buttons you'll find at the end of the story. Thank you!