THE MONSTER AND THE HUMMINGBIRD
Short Story written by: Sthefy
A long time ago in a faraway forest, lived a monster. All the animals were scared of it and always ran away from him.
The monster always looked angry, and those who had seen his face said that his eyes reflected the evil that was in his heart.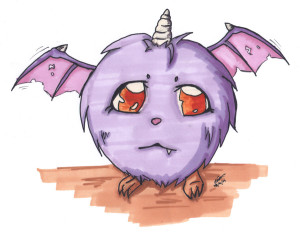 One day, a beautiful hummingbird, drinking in a big lake, saw lots of animals running to the North of the forest. The beautiful bird asked one of the animals why, and the animal said: "If you want to stay alive, run!
The hummingbird looked into the forest and saw the monster, but instead of running away, decided to approach him.
When the monster saw the hummingbird, it looked at him, and the bird saw the kindness in its heart reflected in its eyes and realised that it was not an evil monster.  "We will never be alone again," he said to the monster, who smiled happily and became the bird´s best friend forever.
THE END
Share this short story for kids with your friends on Facebook, Google +, or Twitter with the buttons you'll find at the end of the story. Thank you!