LIVE LIKE CONSTANCE
Short Story written by: Josefa Peña Cuevas
There are lots of kids in the world who like dancing, singing, riding bikes, writing short stories and painting. They also like playing, running, eating sweets and chocolates and getting their faces covered with sugar and chocolate.
Many boys and girls enjoy doing all these things. But I was never attracted to dancing, singing or painting until I met my friend Constance. She always enjoys everything she does.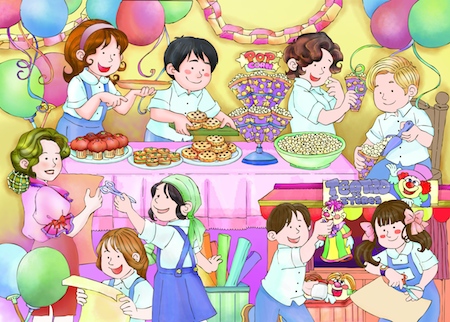 One day I asked her why she liked dancing and she said that every time she danced she felt like a profesional ballet dancer. I asked her what it felt like when she was painting and said that it felt funny and she loved combining colours and she also told me that kids who like painting are good artists when they become adults.
She told me that music makes life more beautiful, and confessed that she loved to eat chocolate so as to be sweeter and nicer to her friends.
And I finally asked her why she was always laughing. She smiled annd said: "I always choose to be happy."
THE END
Share this short story for kids with your friends on Facebook, Google +, or Twitter with the buttons you'll find at the end of the story. Thank you!