NILA THE FAIRY
Short Story written by: Maria Isabel Romero Arraez, 19 años.
Nila was a lovely fairy, pretty and kind. She lived in the fairy palace surrounded by flowers, rivers and animals.
She was the only fairy unable to fly, as she fell to the ground every time she tried to fly, so she decided not to try it again.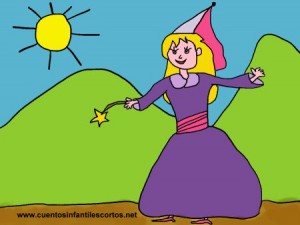 But Nila was very upset because all her friends could fly and play together and she couldn´t. She would go to the river and talk to her friend the ant who always advised Nila not to worry.
One day, due to a strong breeze the ant was about to be blown  into the river. Luckily she grasped a branch and called for help. Nila heard her friend's shouts, but was far from the river and didn´t know what to do.
The only option that would get her there on time and save her friend, was to fly, so Nila tried again and finally flew!
She saved her friend and realised that by forgetting her fears she was able to fly and do anything she wanted.
THE END
Share this short story for kids with your friends on Facebook, Google +, or Twitter with the buttons you'll find at the end of the story. Thank you!