THE ROBBER BEE
Once upon a time there was a swarm of bees and they all worked to make good honey.
One day, Bugy, the most rebellious bee in the hive, took the honey to eat it all by himself.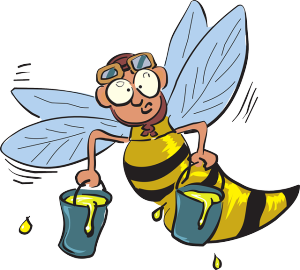 Suddenly the queen bee went into Bugy's room and caught him eating all the honey.
When the queen bee saw him, she said: "You should be working instead of eating our honey. I am not going to punish you but go outside and tell everybody what you have done".
Bugy was really ashamed and told the rest of the bees what he had just done, after that, Bugy started to behave better in his hive.
THE END
Share this short story for kids with your friends on Facebook, Google +, or Twitter with the buttons you'll find at the end of the story. Thank you! Stories for kids written by: www.shortstories.net (a pseudonym).