THE SAVER BABY
Short Story written by Lucia and Ulica.
When Marc was 28 weeks old he started to show his saver side, and he also started to show how he cared about nature and environmentalism.
He had been a very special baby since birth. He needed to sleep with the light on, he was hungry in the middle of the night, and he had always had three pacifiers near his cot to make sure that a pacifier was always nearby.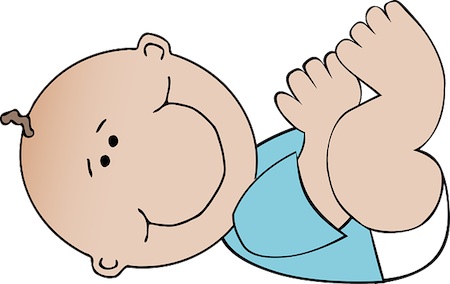 But one day, his parents and his sister realised that Marc was crying because the light was on. And when they turned it off, Marc slept peacefully. But they didn't attach great importance to this, after all, he was just a baby.
That night, his mother, as usual, was waiting for him to wake up and cry in the middle of the night, but he didn´t cry at all!  When the family woke up the next day, they were happy to have slept peacefully all night.
When Marc woke up, he saw all his family around the cot. They wanted to put a new chain on a pacifier, but they couldn´t find any of them. Marc had hidden the pacifiers!
They all realised how special he was. He cared about nature and he cared about saving money and was just a baby.
THE END
Share this short story for kids with your friends on Facebook, Google +, or Twitter with the buttons you'll find at the end of the story. Thank you!