DISOBEDIENT GIRLS
Short Story written by: Delsy Janet Quispe
Naomi and Lauren were two sisters who were always playing with their cousin Christine.
They used to go to the park after doing their homework, but one day, Naomi and Lauren behaved badly and their parents punished them without going to the park.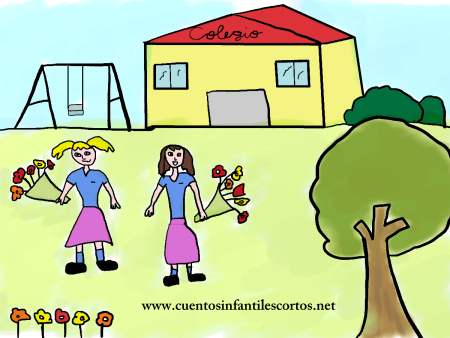 That day, Kristin was going to look for her cousins, as every afternoon but her mother told her:
"They are not going to the park today because have been disobedient at home"
So Kristine went alone to the park. She was very sad sitting on a bench when her cousins Naomi and Lauren appeared.
The girls smiled her cousin and she ran happily to them.
The two sisters told Christine that her mother had forgiven them.
They were having much fun when Naomi fell and twisted her ankle, her mom took her to the hospital where was healed.
She had to wear a bandage for two weeks, but it didn´t matter because her sister and her cousin stayed with her at home during those weeks, because were very good friends and were always supporting each other.
They were so close that their friendship lasted forever.
THE END
Share this short story for kids with your friends on Facebook, Google +, or Twitter with the buttons you'll find at the end of the story. Thank you!