LITTLE SNAIL AND HIS FIELD DAY
Short Story written by: Cecijorgesofi
Little Snail is friend of a ladybug, a cow and a monarch butterfly. They all had fun with Little snail and his slime. When the sun goes down, little snail hides inside his house and has a nap.
It was sunny, so they decided to go shopping. Even if it does not look like that, Little snail was very fast, and, with monarch butterfly´s help, they arrived into a place full of games.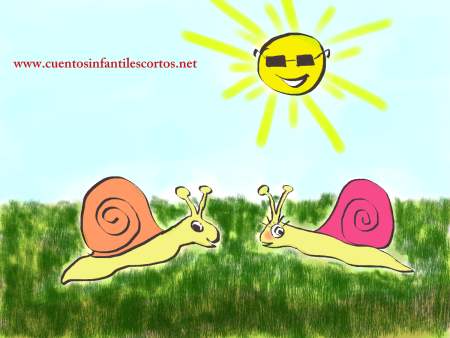 Were tired after playing with all of them, and when night time arrived, lighted a fire for cooking and heating.
Little Snail loved to eat worm grass, that is why he was always near the fire, meanwhile Monarch butterfly was singing a song, the ladybug was the chorus and Little snail was playing percussion in his house.
They all went to sleep together, close to the fire, happy of having had such a nice day in the field like a family.
They had to go back home the next day, so, to don´t get lost, and arrive, they all followed Little snail´ slime.
THE END
Share this short story for kids with your friends on Facebook, Google +, or Twitter with the buttons you'll find at the end of the story. Thank you!