THE MONKEY, THE TURTLE AND THE RABBIT
Short Story written By: Delsy Janet Quispe Goto
There were three friends living in the forest. A monkey, a turtle and a rabbit.
One day the turtle and the rabbit were discussing about who was faster and smarter.
The rabbit said he was because he could jump high and run fast.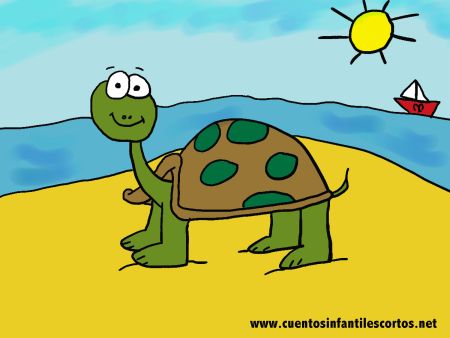 – "You are wrong"! – replied the turtle – "I´m slow but very smart!"
Suddenly the monkey came up with an idea. If the turtle and the rabbit had a race, they would solve their argument.
The rabbit started to laugh – "I´m going to win " – he said
– "We will see…"- said the turtle
The rabbit started the race very fast, and the turtle was slow but persistent.
In the middle of the race the rabbit got very hungry and found a pile of carrots and thought:
– "The turtle will never catch me, so it doesn´t matter if I lie here for a while and eat some carrots."
After eating all the carrots he started to feel very tired.
"Ok, I will sleep a little bit, the turtle will never catch me anyway."
And so he did. When he woke up he found that the turtle had won because he had been arrogant.
THE END
Share this short story for kids with your friends on Facebook, Google +, or Twitter with the buttons you'll find at the end of the story. Thank you!