THE BATH
Short Story written by: Xabier Pita
It was Friday and I had to take my bath as usual. The water from the tap was running and the bath started to fill up. The soap bubbles  got bigger and the rubber duck rose higher until the bath water overflowed. I ran from from the corridor and jumped into the water and made a big splash that got the bathroom floor very wet.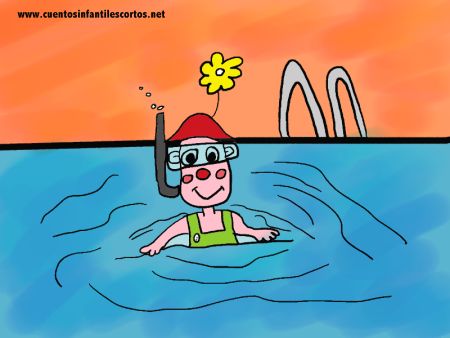 It looked like the soap bubbles were moving and the rubber duck wanted to tell me something! Suddenly, I saw a hole open up. It was a door in the bath that I could dive into, to reach Submarine City.
What I first saw after going through the door was a colourful school of fish swimming near me and a bit further on, I came to a real subaquatic city with shops, houses and even an amusement park.
It was the end of a school trip and all the mermaids were at their school to pick up their little mermaids, who were coming out after swimming and fishing lessons.
After swimming for a while, I went to the sub-aquatic amusement park and took a ride on the submarine roller coaster, the flying fish and the crazy whales.
I had so much fun! I really love bath time!
The End
Share this short story for kids with your friends on Facebook, Google +, or Twitter with the buttons you'll find at the end of the story. Thank you! Stories for kids written by: www.shortstories.net (a pseudonym).