THE HAPPY LITTLE BEE
Short Story written by: Ruderico Diaz (Venezuela)
One day very early in the morning a couple of bees were waiting for their daughter to be born.
Daddy and Mummy bee couldn´t wait to see the face of their little baby. Everything was ready for her arrival. The bees had prepared a room full of toys and sweets, where they were going to have lots of fun with their daughter.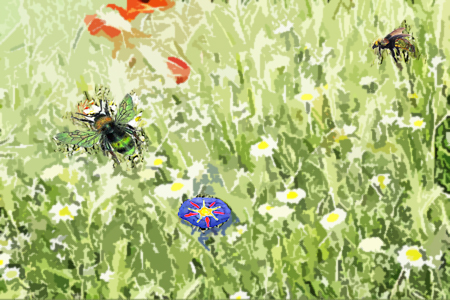 But time passes quickly, and the little baby bee grew up. Her wings appeared and she had to learn how to fly.
Her parents tried to teach her, but she was very scared of what lie outside her sweet home
Daddy and Mummy bee were patient and decided to wait until she was ready to fly on her own. But that never happened, and the little bee aged happily at home with her parents in their nice, comfortable house.
THE END
Share this short story for kids with your friends on Facebook, Google +, or Twitter with the buttons you'll find at the end of the story. Thank you!