PHILIP´S ESPADRILLES
Short Story written by: Lilian Susana
Lily is a curious naughty dog. One night being bored at home, she waited until her parents, Lola and Theo, fell asleep then went to the loft, which was forbidden because this is where her Lola and Theo keep their old furniture and boxes full of memories.
She opened the door with her little paws and went inside and found a paradise of boxes, hats, thousands of old shoes and clothes. Lily didn´t know where to start.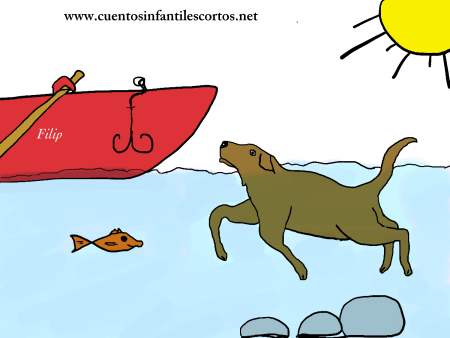 She began by biting some hat feathers, then some shoe buckles, then necklaces and bracelets, until she heard a deep voice saying:
– "Stop! Don´t touch me!"
Lily looked around trying to find the person who was talking. "Who are you…and where are you?!" – she asked.
"We´re Philip´s espadrilles. They bought us years ago but Philip´s feet grew bigger and they left us up here as a souvenir"
Lily was shocked to be talking to a pair of shoes but kept on listening:
"Why don´t you help us go back home? We´ll have incredible adventures during the trip!" – added the espadrilles.
The little dog looked at the pair of espadrilles with thoughtful face and after a few seconds put the espadrilles on her front paws and jumped through the window and from that moment, they began their amazing adventure.
They flew, over the countryside, waving at frogs in the river, the smilng moon and the stars that illuminated their way. Finally, they arrived somewhere near the river where a party was going on. The monkeys were playing the drums, the otters were dancing around, some lions were waving at them and the toads were cheering them.
Lily and the espadrilles joined the party. They danced, laughed, and spoke with all the animals there, until one of the lions said.
"The party is over for it is starting to get light! See you soon my friends."
Everybody started to leave. Lily and the espadrilles said goodbye, still fascinated by the adventure they had just had.
When the moon went to sleep and the sun appeared, the espadrilles went back to their loft and Lily fell exhausted onto her parents´ bed.
THE END
Share this short story for kids with your friends on Facebook, Google +, or Twitter with the buttons you'll find at the end of the story. Thank you!