THE LOST SHEEP
Short Story written by: Miguel Angel Motta U.
Once upon a time, there was a farmer who owned a flock of one hundred sheep. They went out every day to graze in the leafy fields. One day, one of the sheep disobeyed his master and escaped.
The owner used to advise them not to go far on their own because there was a wolf hanging around those fields that would hurt them.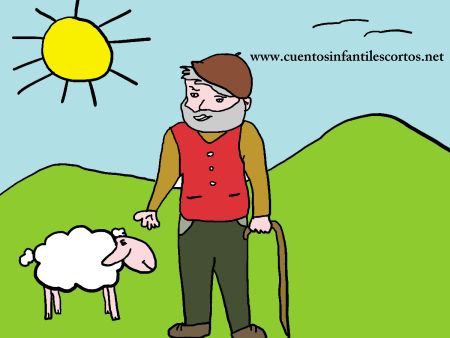 The naughty sheep had ignored him and had walked away happily. After a while, the owner noticed that one of his sheep was missing and went to look for her very worried, leaving the other 99 sheep alone.
He searched but could not find her and this made him think the worst. Then it started to rain and snow, but the farmer ignored the bad weather and kept on searching for her.
Suddenly he heard a voice, it was somebody asking for help. The farmer ran to the place where the voice was coming from and found the lost sheep there. The wolf was about to eat her but the owner rescued her. Then he brought all his one hundred sheep back home together, and they had a big party to celebratethat they were all together again.
The sheep had learnt his lesson and never disobeyed her owner again.
THE END.
Share this short story for kids with your friends on Facebook, Google +, or Twitter with the buttons you'll find at the end of the story. Thank you!