THE STRAY PIG
Short Story written by: Luis Muñoz
Once upon a time, there was a family of pigs made up of a mum and three siblings.
The mum always played with two of her kids, fed them and took care of them, she loved them so much. But she did not take care of her third kid who was called Toto. She was always scolding and growling at him.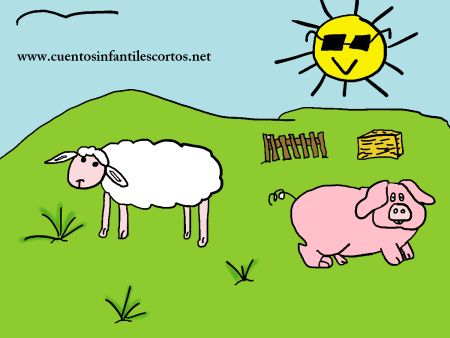 Tired of the fact that her mother´s behaviour wasn´t the same for him as for his siblings, Toto decided to leave home and begin a new life.
He slowly walked along the road, thoughtful and sad, thinking about his mom and the siblings he had left at home.
He ate the grass and the leaves he found along the way and drank water from the ponds and slept under the trees.
He continued walking until he arrived at a small village. He spent many days walking alone through the village and the villagers felt pity for him and used to leave food leftovers outside their houses for him.
That was how he survived, drinking water from a fountain situated in the main square and sleeping rough outside the church´s vestibule.
Toto felt happier because he had food every day, but he remembered his family so much and felt that he shouldn´t have abandoned them. He lived like this for six months, whilst getting older.
He was so loving that the townspeople felt much affection for him and the kids always played with him and that is why he felt like having a family again.
One day, the town mayor realised that the little pig shouldn´t be hanging around the streets like a stray, because it gave a bad image to he town and so he decided to raffle him and the winner would be entitled to take care of him at home.
The poor little pig was raffled and a farm owning family won the prize. The farmer´s son, who was 9 years old, jumped for joy because he was so lucky to have him.
He lived at the farm with the other animals for the rest of his life. The kid always played with him and they became very good friends, just like the rest of the animals.
Toto had finally found a nice family that loved him and would take care of him. He stayed with them from then on and lived happily ever after.
THE END.
Share this short story for kids with your friends on Facebook, Google +, or Twitter with the buttons you'll find at the end of the story. Thank you!