SPRINGTIME AND THE FLOWERS
Today was a beautiful spring day and two school friends, Laura and Sarah, decided to go out into the countryside. As usual for this time of year, there were lots of flowers and the trees were blossoming.
So after school, the two friends went to play in the fields beside the school, for the sun shone so gloriously that the fields looked even lovelier than usual and the meadows were like an ocean of deep green.
Laura said to her friend: "Sarah, I'm going to pick a bunch of really big flowers for my mum." And Sarah replied: "Great idea, Laura, I'll do one for my mum too."
The two girls were excited about making a bunch of flowers from the field to take home to their mothers. In fact, Laura went on to say: "We have to make a really pretty and big bunch of flowers. We'll pick flowers of different colours, like yellow, red, white, and we'll make a bunch that shows off the colours of spring."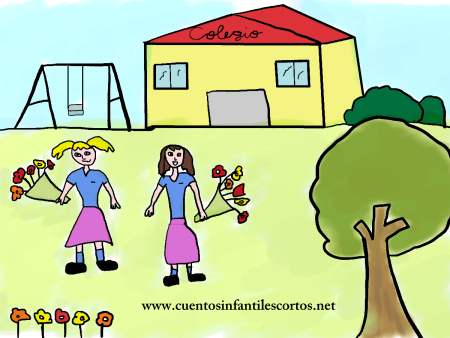 As she was making her bunch, Sarah thought of her class teacher – how well she taught and all the times she had helped Laura and Sarah when they found something difficult. So she stopped and thought for a moment and then said: "Laura, shall we also do a bunch of flowers for Mrs. Cooper?" "Great idea!" answered Laura.
So the two friends made the bunch of flowers for their teacher and when
they had finished they went home. Both
Laura's mum and Sarah's mum were delighted with the present
their daughters had made.
And the day after that, Sara and Laura gave the third bunch of flowers to Mrs. Cooper, who was overjoyed at her gift for she loved flowers. So she took a vase, filled it with water and put the flowers on the table, very proud of Laura and Sarah.
THE END