THE GIRL WITH THE RED SHOES
Short Story written by: Analuna Ramirez
Once upon a time there was a girl called Carole who had a pair of red shoes.
They were very special shoes. She could fly and travel anywhere in the world with them. Everybody looked at her, because nobody had shoes like hers.
She was so nice and pretty and had many suitors, but she did not like any of them because they were all too vain and she wanted somebody who was kind and generous.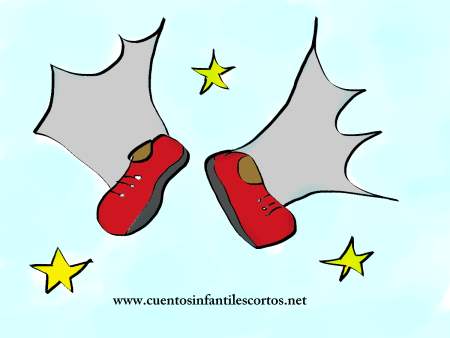 Carole was very sad as all her suitors were selfish and arrogant and she was losing hope of finding a good man who deserved her.
One day somebody knocked on her door. Carole opened the door and there stood Arthur. In the beginning she ignored him:
-"No more suitors, please!" – she said.
But when she looked into his eyes, she felt something special. It was him, the love of her life, nice, kind and generous.
They got married and had six babies, three boys and three girls. Carole made three pairs of magic red shoes for the girls, and Arthur made three pairs of blue shoes for the boys.
They were a happy family and lived happily ever after.
THE END 
Share this short story for kids with your friends on Facebook, Google +, or Twitter with the buttons you'll find at the end of the story. Thank you!