SOPHIE AND LUCY
Short story for children written by: Daniela.
Once upon a time there were two girls. One was called Sophie and the other was called Lucy.
Sophie was so popular, but was a bit rude; and Lucy was a quiet girl, nobody respected her at school. Nobody wanted to be with her because they said that it was a weird girl. However, everybody followed Sophie, everybody wanted to be with her.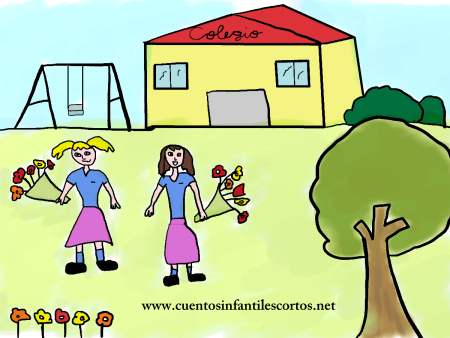 One day, Lucy went out of class and came upon Sophie, who said:
– "You are kind of ugly".
And, of course, Lucy felt so sad and left the place crying. When she finished school that day, told her parents, they cheered her up and encouraged her not to worry about the comment, they were sure that Sophie was going to realize some day that was not a good comment.
But Sophie continued annoying Lucy. When Lucy could not stand it anymore told her teacher. The teacher talked to Sophie and Lucy´s parents in order not to happen that again, even encouraged them to be friends.
Everything was fine after that conversation, and Sophie changed, became Lucy´s friend and shared their things every day. Did not annoy anyone again, everybody in school was happy.
And that is the end of the story….
Moral of the story: respect everybody.
Values of the short story: respect, friendship, comradeship. love, affection, solidarity.
Share this short story for kids with your friends on Facebook, Google +, or Twitter with the buttons you'll find at the end of the story. Thank you!