THE TALKING WORM
Short Story written by: Ana Quintero
A girl was playing in her garden when she heard a voice saying:
– Your mum is going to call you for lunch.
And just at that moment her mother called her for lunch:
– Lucy, it´s lunchtime! Go and wash your hands.
– I told you…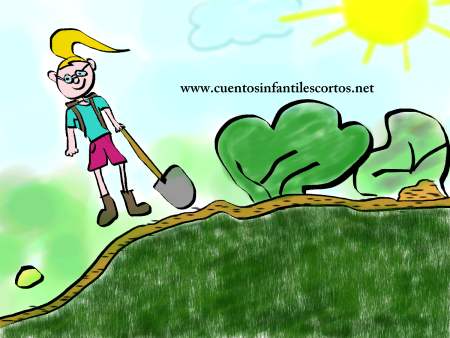 Lucy was shocked. She didn´t know where the voice was coming from. She took a look around and saw a little worm right beside her.
– Tomorrow will be the same, listen to your mum. I will see you tomorrow at the same time. – said the worm.
– You can talk. – said Lucy
– Of course, can you hear me?
– Sure! – said Lucy again, and went into the kitchen.
Lucy told her mother what had just happened, but her mother didn´t believe her; " It's your imagination, Lucy."
When she woke up the next morning she heard the voice again:
– Lucy, don´t forget it´s Friday and you have to take an object to show in class.
- I'm going to take you.
Later in class, Lucy wanted to show the other kids the talking worm, but he didn´t say a word.
When they arrived home, Lucy asked the worm why he hadn't spoken, but the worm did not answer her either. She became very angry sitting in her garden and then she heard her mum say.
– Lucy, it´s lunchtime! Go and wash your hands.
The worm had been right, and they became a very good friends, and Lucy kept her secret.
THE END
Share this short story for kids with your friends on Facebook, Google +, or Twitter with the buttons you'll find at the end of the story. Thank you!