THE TOAD WHO WANTED TO FLY
Short Story written by: Luisa Fernanda Martinez (7 years old)
Sammy was a toad who wanted to fly like a bird. One day he met a heron at the lake to whom he said: "I want to fly like you do!".
And the old heron replied: "Value yourself, don´t try to be like others"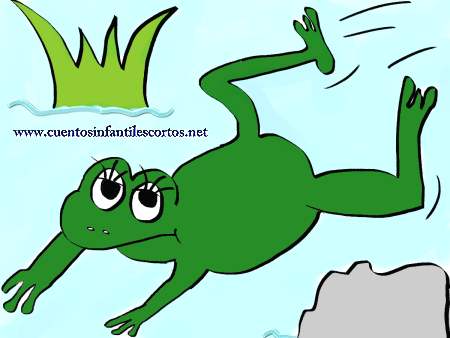 But Sammy could not hold back his desire to fly. One morning he saw that another heron was crying: "What´s wrong?" – he asked her.
"I broke my wing and cannot fly" – said the poor bird.
"Don´t worry, I'll take care of you until you get better."
The heron got better after a few days and didn´t know how to thank Sammy; "Please let me compensate for what you´ve done for me. Ask for whatever you want."
"Anything?" – said Sammy – "Well, I would love to fly like you and enjoy the view from the sky."
The heron took one of Sammy´s leg and started to fly. Sammy enjoyed it so much because he was living his dream. But his happiness didn´t last for long. As soon as the rest of the herons joined Sammy, a big falcon approached the group and the birds flew away and so did the heron who was carrying Sammy.
Once they were far from the falcon Sammy said: "Thanks for making my dream come true, but I won't try to fly again. Once is enough for me"
And the toad lived happily as a toad and has valued himself since then.
THE END
Share this short story for kids with your friends on Facebook, Google +, or Twitter with the buttons you'll find at the end of the story. Thank you!