Plastic bags are used all over the world to carry everyday items such as bread, shopping, clothes, toys and lots of other things. But Pappy, the hero of our story, wasn't a plastic bag like all the rest – he was a very special paper bag. And Pappy had a mission to complete…
Pappy knew that all over the world there were millions of plastic bags that had been abandoned by people and ended up floating in the seas and oceans, contaminating the water and causing damage to the creatures that lived nearby.
Pappy didn't want things to go on this way, so he came up with a plan to put an end to plastic bags being thrown away. One day he went to visit a big supermarket to talk to the manager.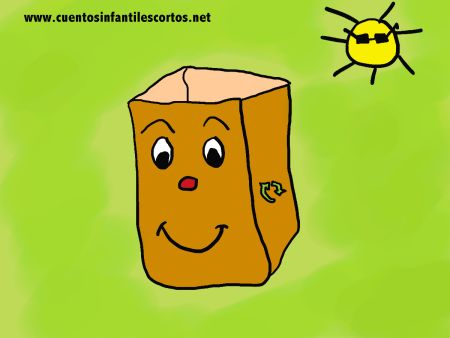 "Hello Mr. Manager, my name is Pappy and as you can see I'm a paper bag. I wanted to propose an idea to avoid using plastic bags in shopping," Pappy declared. Read the rest of this short story »
There was once a man called Fermín who loved running with the bulls in the Spanish town of Pamplona.  Fermín was from a small village in Spain, and every year in early July he would pack his bags and set off for Pamplona to join lots of other people at the festival. It was a very popular event called the "Sanfermines" – a bit like his name. But the first year he went, he didn't realise just how big the bulls were and just how fast they ran.
Fermín dressed all in white with a red neckerchief around his neck and prepared himself to run with the bulls. There were hundreds of people there, singing a traditional song to Saint Fermín to protect them in the chase… and after a few minutes, they released the bulls from the pens.
Fermín was very afraid when he saw the bulls running towards him, for he had never seen such big bulls before. He froze in sheer fright from the chaos of all the people running and all the bulls hurtling along behind them.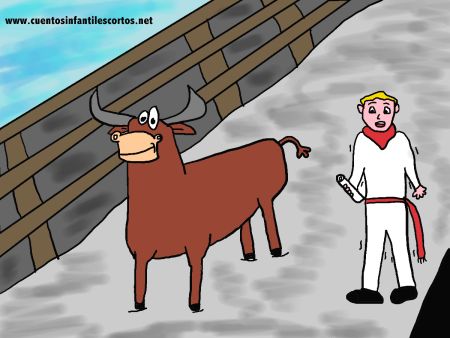 Unfortunately, Fermín had frozen in the middle of the most dangerous street in the chase, Estafeta Street. Just when the bulls were about to reach him,a man came racing up to him, grabbed his arm and pulled him over the barrier. Read the rest of this short story »
Once upon a time, there was a white daisy called Fleur who lived in a very big field full of other daisies. All the plants had a very important function in life, and that was to perform photosynthesis.
Fleur was a very young plant, but she was also very intelligent because from the moment she was born she never stopped observing the actions of a yellow daisy that lived beside her.
One day, when she was just a little daisy, Fleur asked the yellow flower: "Yellow daisy, what's photosynthesis? The other plants say that's what we do." And the yellow daisy answered: "Well, photosynthesis is when we plants absorb the light from the sun and water from the ground to feed ourselves and grow. That way we also help the nature maintain its balance."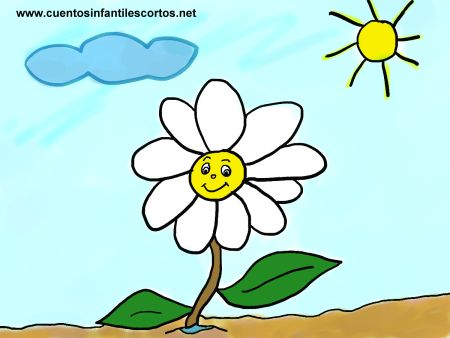 "But how do we help it maintain its balance? What exactly do we do?" Fleur asked, for she was very curious. Read the rest of this short story »
Once upon a time there was a mole called Molly, who lived in a field in the middle of nowhere. Lots of other moles in her family lived there, too.
The moles usually spent their time digging holes in the earth and hideouts hidden under the ground. Although moles have an excellent sense of smell, their sight is very bad and they can barely see beyond their noses.
Molly was a very special mole, for she had decided to wear glasses to see better and therefore be able to dig tunnels more quickly. All the moles in the field laughed at her for this, and she felt very depressed.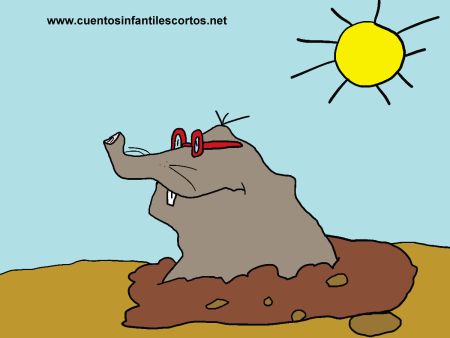 But one day the Mole Olympics were held in the field, and Molly put herself forward for the event of "most extraordinary digger." This consisted of digging a tunnel more than two kilometres long, leaving from one point in the field and arriving precisely at that same point through the tunnel. Read the rest of this short story »
Somewhere in a large coastal city, there was an enormous beach where the turtles went to raise their newborn young. That was where Juliet was born, and she is the main turtle in our story.
When Juliet was a baby turtle, she was protected all day long by her mother so that nothing would happen to her. But as she grew older, she began to realise that she was a born explorer and she enjoyed going off on her own to explore new beaches.
When Juliet was old enough, she decided that to explore the world she would have to get a vehicle in which to travel, for turtles were very, very, very slow.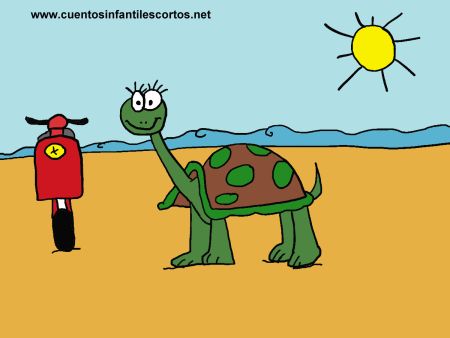 So she asked her mother to buy her a moped so that she could go off and discover new lands further away. But Juliet's mother said: "Certainly not! I'm not going to buy you a moped because they're very dangerous for turtles – they are not made for us." Read the rest of this short story »
Once upon a time, there was a ham sandwich called Sandy, who was taken to the beach in a bag every summer. But Sandy was fed up because every time she went she would get covered in sand, particularly when there was a lot of wind. Not even bags could prevent it from happening.
The ham sandwich usually went to the beach with her friend the tomato, who also thought the same thing – the beach was disgusting!
One day, a little girl realised that the ham sandwich and the tomato were suffering from all the sand and said to her parents: "Mum, dad, don't you see that every time you bring sandwiches and tomatoes to the beach, they get filled with sand? It's our food and it deserves respect!"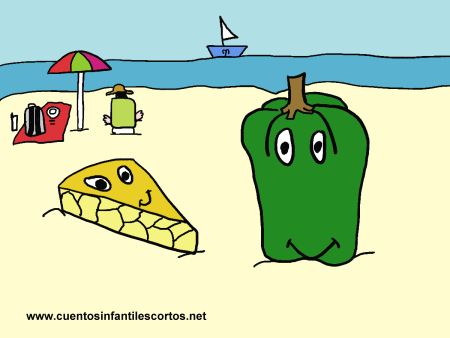 To the family's complete astonishment, the ham sandwich suddenly began to talk and said: "Parents, you should be proud of your daughter. She is able to put herself in someone else's shoes, and that's very important. I am food, so I deserve respect, and I especially don't need to have sand all over me!" Read the rest of this short story »
Once upon a time, there was a little drop of water called Glug who lived in a river. Even though she didn't know it, she had a very important mission on Earth, and that was in the cycle of water.
Glug was a very young water drop so she didn't know why her mother would often leave the river and return a few days later. So one morning when the sun was shining brightly, Glug asked: "Mum, why do you leave the river sometimes?" Her mother answered: "Well, because we water drops have a very important job to do: we must ensure that the cycle of water continues."
Glug was very surprised, for she had never imagined that her mother was so important to Earth. However, Glug wasn't very sure exactly what this mission actually was, so she asked: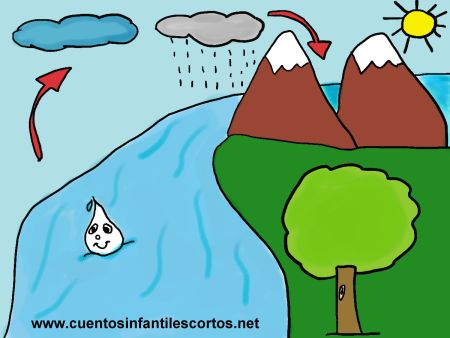 "So what's the important mission, Mum?"
"It's not just my mission, but yours too, and all the water drops on Earth."
Glug was open-mouthed, for she too was part of this important mission for the planet. Read the rest of this short story »
There was once a very special lion called Simba who lived on the African savannah. Simba would play in the plains, running and jumping with his friends the leopards and other lions in the area. Simba had a very special gift, for every time he roared he created such a strong wing it seemed like a hurricane.
On the savannah where Simba lived there were lots of kinds of animals: giraffes, elephants, hyenas, etc. and even though it wasn't a particularly green place, there were lots of species of tree and plants.
One day, as Simba was playing with his friends, they saw enormous machines destroying part of the plain by digging into the earth. "The humans are building oil wells…" said one of the wisest lions.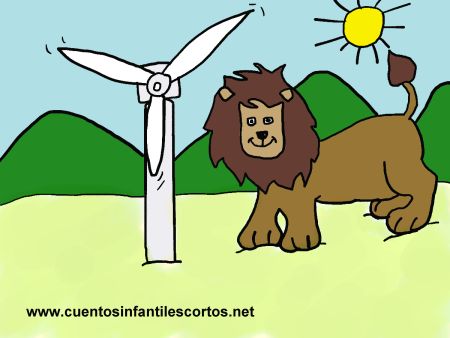 Day by day, the men built more and more oil wells, destroying the local nature in the process.
Simba had fewer and fewer friends with whom to play, and fewer plains in which to run about, and he knew that it was the men that were causing it all.
So he decided to ask the wisest lion in the area for a solution. The wise old lion said: "The only solution is for the men to stop using petrol, and use renewable energies such as wind instead…" Read the rest of this short story »
Once upon a time there was a crab that lived on a beach in southern Spain. The other crabs called him Croqui, because he loved to cover himself in the sand, a bit like a croquette.
Croqui loved sunlight and when summer came he went mad about getting the best place on the beach to sunbathe. He was always very tanned, but he never listened to the older crabs' advice.
The adult crabs always told him to put on sun cream to stop himself from getting sunburnt on his shell, but he would say that it wouldn't do him any harm.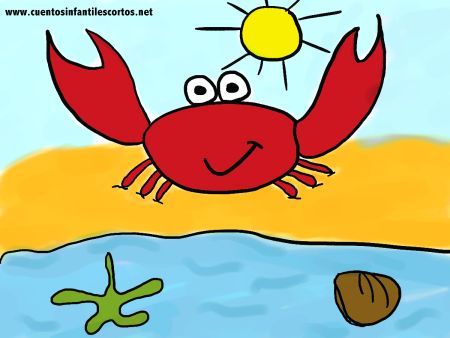 One splendid hot summer's day, Croqui was sunbathing when suddenly he began to smell burning. "What could that be?" he thought. Then he realised that smoke was coming from one of his claws, and that it was scorched. So he raced into the sea to cool off. Read the rest of this short story »
Once upon a time, there was a very close family who lived in a humble house in the countryside. They had worked hard to build the house themselves, for they had always wanted to have a nice home that was energy efficient.
Most of their neighbours had all-terrain vehicles, so eight-year-old Mario, who was the oldest child in the family, had often asked his parents to swap their own car, which was now very old, for a 4X4.
Eventually, Mario's parents went off to buy a new car, for their own had stopped working. When they got home, Mario was waiting for them in the garden, impatient to see what 4×4 his parents had bought. He thought: "I bet they've bought the biggest and fastest 4X4! Now I can show off the new car in front of the neighbours!"
But to his great surprise and disappointment, the new car driving up the road wasn't a 4×4. Mario immediately ran to the car.
"Dad! Mum! Is this our new car?" asked Mario, looking anguished.
"Yes, darling. Do you like it?" answered his mother.
"No I don't! It's not a 4X4! It's a rubbish old electric car, why did you buy it?" asked Mario angrily. Read the rest of this short story »