KING MIDAS
This is the story of a King who was really greedy and, as we all know, greed over-reaches itself; one may end up with nothing.
King Midas lived in a big palace beside a river. He was very rich, and had a lot of money and luxury. But he wanted more – "I want to be richer!"- he would say.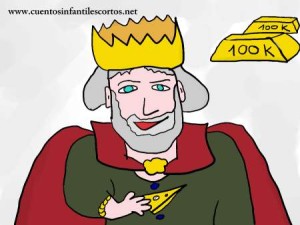 One day he found a magic lamp and a magician appeared. – "I want to have more treasure than I already have."- Said King Midas. The magician thought that it was an opportunity to teach him a lesson and said, – "Your majesty, I can give you a power that will make you the richest man in the world, anything that you touch will turn into gold".