AN ADVENTURE IN THE GARDEN
When Johnny Mole rose to the surface from his den to look for his friend, a Pippi Mouse, he didn´t know that a gardener was mowing the lawn. When he saw the blades of the lawnmower he ran back to his den.
Johnny is the most intelligent mole in the garden. When he was 3 months old he could already solve riddles.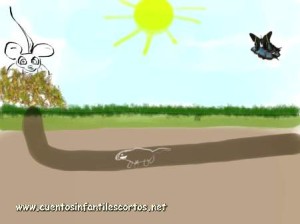 One day Johnny and his friend Pippi were playing in the garden, digging a tunnel from the garden to the porch of the house. But that day Pippi's tunnel ended up leading to the gardener´s house.
When the gardener saw him, he started to chase him into the house with a broom. Johnny went quickly to help his friend. You shoud know that Johnny had made a door bell some days beforehand for just such emergencies.
So that is how Johnny saved his friend Pippi. When Johnny rang the bell and the gardener opened the door and Pippi ran out and escaped.
Johnny advised Pippi not to do that again, and most importantly, to be prudent even when playing.
THE END
Share this short story for kids with your friends on Facebook, Google +, or Twitter with the buttons you'll find at the beginning or end of the story. Thank you! Stories for kids written by: www.shortstories.net (a pseudonym).