THE BEGGAR AND THE DOG FROM OXFORD STREET
Bobby was a dog that lived in Oxford Street in London. He had always lived there, ever since his Master had died in a motorbike accident in that same street.
Recently he had been spending his time with a beggar. The beggar loved Bobby very much and they used to have lunch and play together.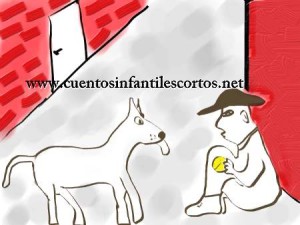 But the beggar changed. He started to buy alcoholic drink with the only money he had, and his behaviour started to change. Bobby noticed that his friend was different and wondered why.
One day Bobby was hanging around Oxford Street when he saw his friend lying on the floor without moving. Bobby licked his face to wake him up, but it was impossible. So he ran to a police station and barked until a policeman followed him.
The policeman called an ambulance and Bobby watched the doctors take his friend to hospital.
Once in hospital, the beggar woke up and the doctors told him how Bobby had saved his life, so the beggar went back to Oxford Street to look for Bobby and adopt him.
That is how the beggar realised that he had made a mistake by choosing that way. So he started a new life with Bobby. It is important to take care of our friends, as the ones who love us will always be there for us.
THE END
Share this short story for kids with your friends on Facebook, Google +, or Twitter with the buttons you'll find at the beginning or end of the story. Thank you! Stories for kids written by: www.shortstories.net (a pseudonym).